With so many vendors selling different mobile spying apps, it can be hard to pick one that's actually reliable. Most of these apps offer more or less similar features but not all of them are user-friendly and efficient. Sometimes, even the features promised don't work. In that case, how can you know you have made the right call? If you are still confused, read the guide below to learn about 5 popular mobile spying apps and pick the right one that's the most promising one for you: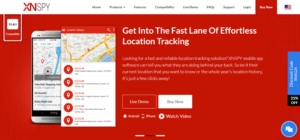 1. Xnspy
Xnspy is a leading mobile spying solution that's a combination of advanced spying and monitoring features. It comes in a broad variety of tracking options combined with affordability and quality, of course. It doesn't just serve as a surveillance app for kids but also a location tracking solution. It has everything to keep you updated about someone's activities in real time. Its compatibility is awesome since it works on both Android (supports up to 8.0) and iPhone (supports up to 11.2.5).
Monitor phone calls and text messages
Access IM chats on WhatsApp, Viber, Facebook Messenger, Skype, iMessage, Kik, Instagram, and Tinder.
Track GPS location
Read emails and monitor internet activities
Record phone calls and surroundings
View photos, videos, and calendar entries
Remotely control the phone
Use keylogger to record keystrokes
Get 24/7 instant alerts
Price
Xnspy comes in two packages; Xnspy Basic Edition and Xnspy Premium Edition. The Basic Edition costs $8.33 a month and the Premium Edition costs $12.49 a month. You can choose from monthly, quarterly and annually subscription depending on your budget.
Is it worth it?
Xnspy is #1 on our list of top mobile spying apps for lots of reasons. It offers 30+ monitoring features at a very reasonable price. Even the basic package covers lots of features that no other mobile spying app is offering. It has a separate iPhone Jailbreak version along with the standard iPhone NO-JAILBREAK. Their live chat support is great too. Xnspy is user-friendly, affordable, compatible, and reliable.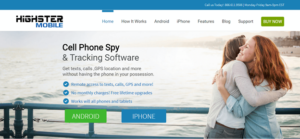 2. Highster Mobile
Highster Mobile is one of the mobile spying apps that act like a tracker and a cell phone spy. It works on smartphones and tablets and it is compatible with Android and iOS. It was designed for parents to keep track of their kids but it can be used for monitoring employees too. Fortunately, Highster Mobile does not need rooting or jailbreaking. Its compatibility is great too since it supports all versions of Android and iOS.
Monitor text messages
Track GPS location
View call logs and photo and videos logs
Use stealth camera to remotely take photos and videos of the phone's surrounding
Monitor IM chats on Facebook, Twitter, Instagram, and Skype
View web browsing history
See calendar activities, apps installed, and access the contact list
Price
Highster Mobile comes in a one-time purchase of $69.99.
Is it worth it?
Everything about Highster Mobile sounds great, right? Its spying features are awesome and you just have to pay money once to use this app. But there is a catch. The app lacks some common spying features like remote control, ambient recording, email monitoring etc. It's only recommended if you have basic spying needs. That's why it's the 2nd best in our list of top mobile spying apps.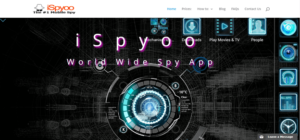 3. iSpyoo
Here comes another popular mobile spying app. iSpyoo is designed for monitoring your employees, protecting your family against digital threats, and for catching cheating partners. It's compatible with Android and iPhone but you will have to root/jailbreak them first.
Track GPS location
View call logs and read text messages
See contacts, read notes, view photos and videos on the phone
Monitor emails, and internet browsing
Record calls and ambient listening
Monitoring WhatsApp chats and other IMs like Facebook Messenger, and Snapchat
Price
iSpyoo is available in three packages: Basic, Premium, and Gold. The price of the Basic package is $19.99 a month; the price of the Premium package is $23.99 a month and the price of the Gold package is $25.99 a month. You can choose from three months, six months, and annual subscriptions.
Is it worth it?
iSpyoo works on iPhone with Jailbreak only. If you have bought the basic package, there is no need to root your Android device but if you want to use premium features and for that, you have chosen the Premium or Gold package, it requires root. iSpyoo has a relatively poor compatibility as well as disappointing customer support. It surely offers more features than most of the mobile spying apps but they come at the cost of rooting and jailbreaking your devices.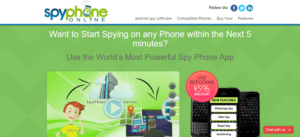 4. Spy Phone online
Spy Phone online is a software that lets you control and access the target phone from anywhere anytime. It goes stealth and lets you monitor the activity of another user without getting caught. It supports Android, iOS and Blackberry OS versions.
Monitor calls and SMS
View GPS location
Monitor internet activities and read emails
Listen to the surroundings of the phone
View calendar activities and multimedia files
Remotely control the phone
Read chats on iMessages, WhatsApp, Skype, Viber, BBM, and spy on Snapchat
Price
The price of Spy Phone online is $59.99 a month. You can buy the subscription on a quarterly, biannual and annual basis.
Is it worth it?
Spy Phone online doesn't have a good mobile OS compatibility. On Android, it supports till OS 4.0 and on iPhone, it supports up to 7.0. You must Jailbreak your iPhone to Spy Phone online. On top of all these flaws, it is also pricey. You can find better apps with advanced features at the same or even less price.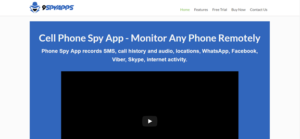 5. 9Spy App
9Spy App is an Android and iPhone monitoring software that is designed to help users meet the digital safety challenges of their home and office. It's a fairly new app but it promises features that premium apps are offering. It's also available in a two-day free trial. Let's have a look at its features:
Call log monitoring
Read text messages
Track GPS location
Monitor web browsing
Record phone calls and surroundings
Send remote commands
WhatsApp, Facebook Messenger, Viber, Skype, Kik, Line, Hangout, and Snapchat spying
Price
The standard package costs $15 and the Gold package costs $25.
Is it worth it?
Spy on App sounds like a great app but there are a lot of problems with it. There is no sign of live customer support on their website. The emails provided on their Contact Us page don't work. They don't have a live demo version either. Also, some of the features of the app don't work like it's said. There is no information about the compatibility of this app.
Now that you know everything about the features of these mobile spying apps and their flaws, do a price and benefit analysis keeping in mind your spying needs and pick the right app.
Read Also: