Do you want to know about the Best Phone Cleaner App for your Android device? Well, there is an urgent need to know about it and to get one for your Android phone if you have been using it for quite some time now!
The reasons are many that an Android device may need to get a phone cleaner app. One reason that surpasses all is that these Android phones are the multitaskers.
From calling to checking the weather conditions, from ordering food to booking movie tickets, from watching our favorite videos to sharing our lives on social media, we do it all on our mobile phones.
Doing all of these things on a digital gadget may affect it today or tomorrow. To avoid the situation to encounter frustrating issues like a slow device or full storage, or even worse, it is better to get the best phone cleaner app for your Android.
But the question here arises about finding that perfect cleaner app. It is similar to finding the needle in a haystack! But there is a phone cleaner app that can be trusted blindly for its reliability and functioning to make your Android device a better place!
The app is the Advanced Phone Cleaner. This is one single entity that can give you round the clock service when it comes to optimizing your Android device completely.
How Does Junk Gets Accumulated?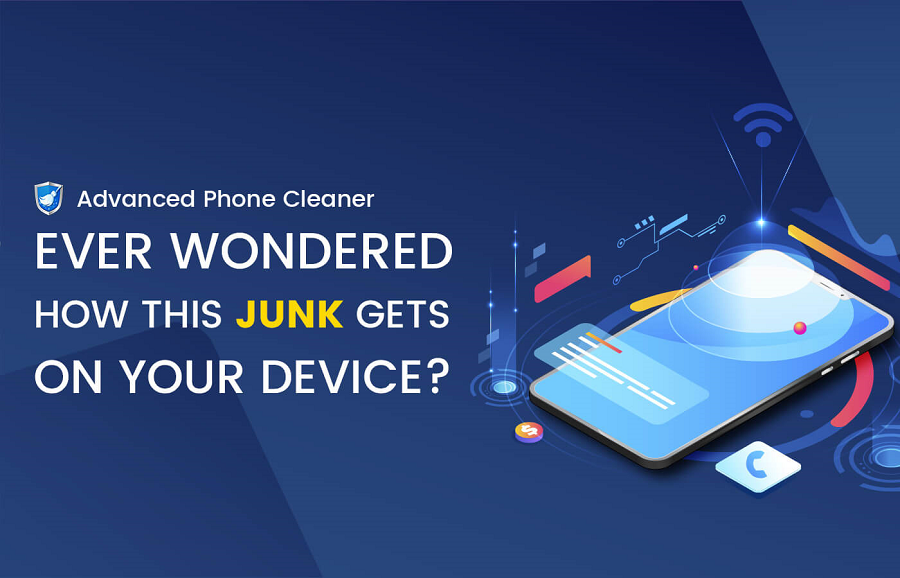 Junk is no alien. Junk is a part of our phones. However, it is not really favorable for the storage space but yes it is good for the apps. The apps can load a lot faster with the cache.
But this cache legacy does not last a lifetime. After a certain time, these cache files are left abandoned. These files then do nothing fruitful but just sit back on the storage space of the Android device of the user. The Best Phone Cleaner would work to deal with such files effectively.
The contributors of this junk on a device are many.
Like, there are some folders that are empty. These do not serve the Android user for any purpose but it is present on the device. Then there are the hidden culprits- media files. The songs that used to top the charts once are not even played now but still, they are on the device. The list is endless…
All of the entities listed above help in the accumulation of junk on an Android device. But with just one entity which is a Phone Cleaner App for Android, all of these issues can be resolved or rather junk can be cleared.
Why There is a Need to Get a Phone Cleaner App for Android?
Running on slow speed and limited storage is not a practical situation! Everything is so fast and one cannot run at a slow speed. Plus the urge to store fresh audio or video files or clicking more photos is difficult to resist.
And why should one even resist it? After all, this is why they once invested in an Android device. This is exactly why there are Phone Cleaner App for Android. With such apps on the phone, one may not face any difficulty as that of a slow device or stuffed storage.
Also, managing the stuff that lies on an Android device is not easy when you think about doing it manually. There literally are 'N' number of files and other things that need to be managed. For this purpose, what else than the Best Phone Cleaner will serve?
This does not end here. The benefits you can extract out by using such an app are many. There is a lot more that one can expect out of the best phone cleaner app.
How Advanced Phone Cleaner Works?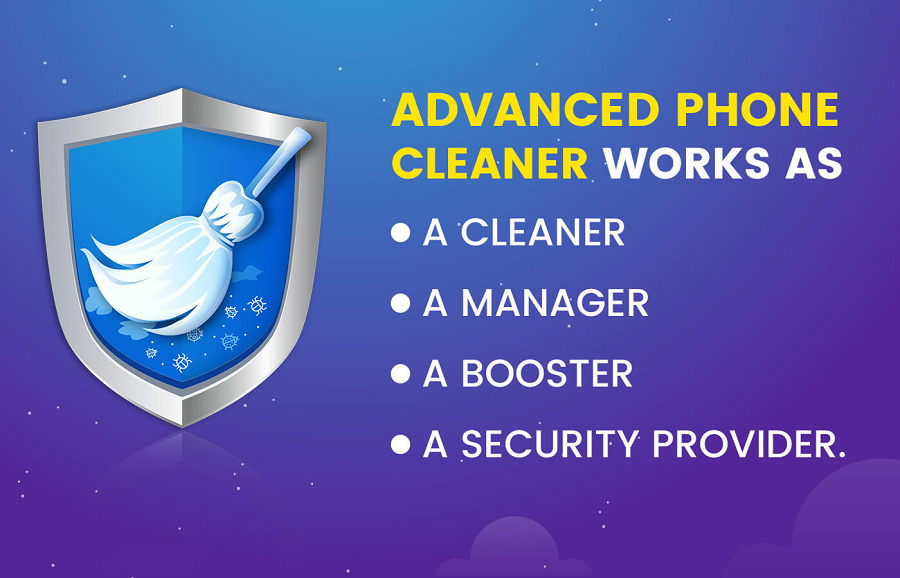 Advanced Phone Cleaner Works as a cleaner, a manager, a booster, and a security provider.
The Best Phone Cleaner App for Android- Advanced Phone Cleaner works really well as a cleaner, a manager, a booster, and a security provider. It is tailored to meet various other needs of the Android users.
Advanced Phone Cleaner has a number of modules to clean junk of all kinds. This may include app cache, residual files, temp files, memory, media files, same photos, obsolete files, and every other thing that is useless through 'Junk Cleaner', 'Social Cleaner', and 'Duplicates Cleaner'.
It also concentrates on accelerating the overall performance of the device. For this purpose, this Best Phone Cleaner has a number of features that focus completely on enhancing the speed of the phone through 'Speed Booster' or to give long duration to the battery through 'Battery Booster', or to speed up the game one would love to play on their devices through 'Game Booster'.
Then there are managing tools one can use in this Best Phone Cleaner App. These include managing or deleting the apps through 'Application Manager', managing the files through 'File Manager', and managing the notifications through 'Notification Manager'.
One of the most important features of Advanced Phone Cleaner is its Antivirus. It is one of the strongest virus defending systems available for Android.
The features offered by the Advanced Phone Cleaner does not end here. It has various other features like Secure Browser, Device Information, CPU Cooler, etc that work on maintaining the complete well being of you and your device.
With this, the blueprint of this Best Phone Cleaner App- Advanced Phone Cleaner completes. Do not miss out to download this app from the Google Play Store!