With millions of users around the world relying on Android devices for their day-to-day work, the importance of its security is no hidden fact. To keep the device intact, Google offers numerous security features built-in on your Android device. You can avail these features or can try for some more outside it like installing security apps on your device and avoiding suspicious links etc. Let's discuss top 5 essential steps to secure your Android device from various threats.
Lock your phone: It sounds no brainer but this simple yet powerful step can help you avoid data breach from prying eyes. Having device locked with a passcode or some pattern will help you keep your device data protected no matter you are busy with some personal stuff or forgot your phone home or in office. You can still find users who do not prefer to lock their phones as they don't want to take the pain of unlocking their own device every time they want to use it.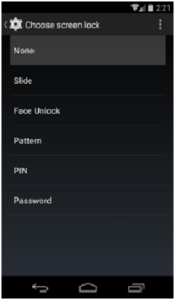 Perfect!! Nobody would like to enter passcodes or patterns every ten minutes when you are using Android device extensively. But this less painful step can avoid serious situations like data loss or security breach on your device. To generate a passcode or screen lock, head to Settings > Security > Screen lock and create a PIN. If you have fingerprint reader option, go for it.
Activate Android Device Manager: If you are not aware of this built-in feature on your Android device then you should be!!
Android Device Manager is one of the best Android security apps that helps you track and secure your device remotely. As per permissions, you set in Android Device Manager, it can help you remotely track your device, make it ring (even if it is on silent mode), change the screen unlock code, lock the screen or completely wipe your device data. This feature comes handy when your device is lost or stolen.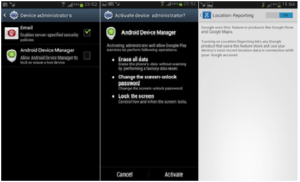 To activate this feature on your device, go to device's Settings app > under Personal tap Google > under Services tap Security > activate Android Device Manager feature. On old devices, go to Settings > Security > Device Administrators > Android Device Manager and activate it.
Disable Unknown Sources settings: It's completely Okay when you are downloading and installing apps from Google Play Store as Google does its best to keep store safe from any malicious content. It places advanced algorithms to keep malicious content and apps at bay. Then next in the store is downloading and installing apps from third-party app stores or websites.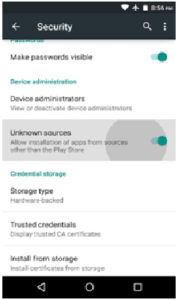 Again, it is comparatively safe when you are doing it from renowned stores like Amazon's app store, but downloading from any random app store or website may cause harm to your device as it may contain malicious code. To avoid such a situation when you try to download content from these harmful sources knowingly or unknowingly, you should opt for built-in feature on Android. You can disable Unknown Sources setting on Android by heading to Settings > Security > Unknown Sources.
Keep your device updated: Malware more often attacks those devices with old software as that can be easily breached with known security loopholes. Manufacturers usually place certain bug fixes, security patches against all recent known vulnerabilities and offer more advanced features with each update. Thus, it becomes important to keep your device updated all the time with all recent updates to keep your device and its data protected against any security breach.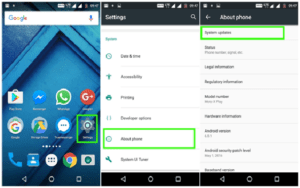 Usually your Android device prompt you, whenever there is a new update to install, else you can check it by heading to Settings, > About Phone> Software Updates> Update. It will ask for the confirmation, confirm it to begin the process.
Backup your data: This trick is a panacea for all device worries in the digital world. Back up your data on the external device, on your computer or on Cloud server but make sure you have a second copy of your important data in case you have lost your device or someone has stolen it. This simple yet powerful tip will help you recover all your important data seamlessly.
You can follow these simple steps to ensure your Android device is secured. Apart from these steps, you can also consider to get insurance for your device, install antimalware software, access secure network, encrypting device, setting up a user account for limited access to other users (if you share device), lock your apps and do much more.
Summary:
Following certain security steps (including some built-in features) on your Android device, you can keep your device intact. Let's discuss some of these steps here to secure your Android smartphone.