3 point slinger for camera is one of the best options for proper camera body mounting. When clicking pictures, the most annoying thing that can happen is a camera shake that leads to blurred photos which can be a result of not holding a camera properly.
A wildlife photographer or a wedding photographer who is facing difficulty carrying his camera gear everywhere for the long haul or wants a hands-free experience or maybe wants to carry multiple cameras at a time then this could be the most viable option.
Properly mounting a camera can hugely lessen the camera shake which results in very sharp and clear images. This mounting method can reduce or possibly eliminate the undesired fuzzy images.
Many cameras nowadays come with features that are specifically designed to combat blurry images. Some cameras have image stabilization incorporated into them while others make use of hardware plus software to get the combination of the best.
While these facilities certainly help in getting a good image, extra measures to hold the camera properly don't hurt, and that is what this slinger for the camera does.
Also, read about the Best Digital Camera Brands.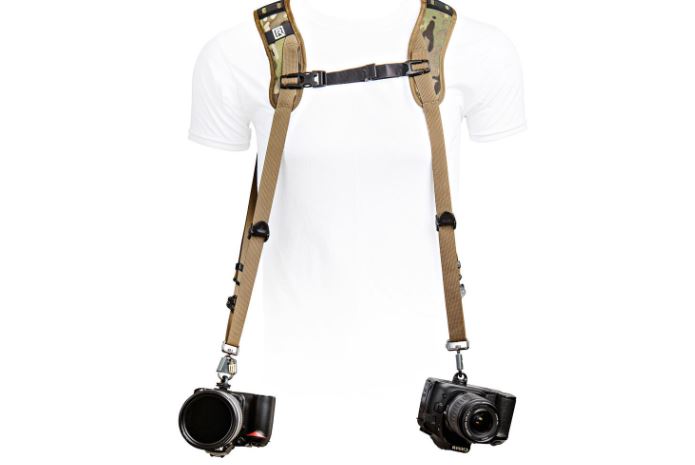 What Is A 3 Point Slinger For The Camera?
A 3 point slinger for camera is a constructive way of mounting your camera and this allows you a hand-free experience. This helps you in getting stable images and it also brings down the pain in the neck induced by carrying a camera for a long time.
Typically, the slinger has three main tips of adjustable supports or anchors.
The shoulder pad is the foremost and most important point as the majority of the camera weight can be observed on this point. It is generally padded with soft materials and helps in decreasing neck strain and allows proper mounting.
The second anchor is located below the armpits and is usually connected for providing a sturdy mount. It connects to each other through a single snap buckle in the middle.
The final point is at the waist, where the camera is hung when it's not being used. This also allows height and location adjustment.
How Does The Camera Sling Work?
The functionality and usability of a sling are moderately simple. The harness takes the weight of the camera and allows you a hands-free experience.
It's easy to use and easy to adjust. The cameras can rest by hanging on the waist and be available to use whenever needed. Cameras hang in the side and not in the front which keeps it safe from bumps and hits and scratches.
The weight is allocated across the upper part of the body which allows one to use the camera for a very long period of time without getting tired.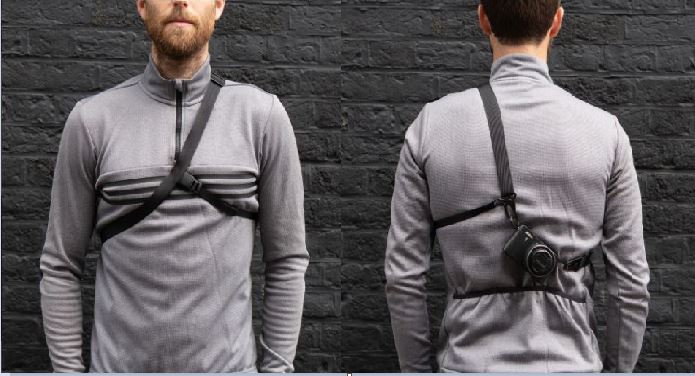 Things to Consider When Buying a 3 Point Slinger For Camera:
Type of camera owned:
The first and foremost thing to consider when buying a camera slinger is the type of camera you own. If you are using a small camera, then a 3 Point Slinger could be a very useful accessory.
However, if you own a much larger camera, carrying it in a backpack will make more sense. Still, if you want to use a slinger then you have to opt for a larger sling meant to be used with larger cameras and gears.
Comfort:
Comfort is also a major factor when deciding which slinger to buy. Usually, the slingers are made out of fabric and leather. The material should be hefty while being comfortable. It should be well-padded as it will secure your gear and make sure you don't feel the weight on your shoulders and back.
In addition, you can look for slingers that further distribute the weight uniformly.
Slots and compartments:
While every 3-point sling has compartments that allow you to carry multiple cameras and related accessories there are some products that provide extra compartments and are more spacious than others.
Also, if the compartments are not easy to access you may find it difficult to take out the best camera for the perfect shot. It is not ideal if you have to dig through your stuff and specific slots for specific tools are not specified. The sling should be well organized and must be useful.
Adjustability:
The sling should be highly adjustable both for height and for locking your cameras in a specific position. They are used only when you planning to use them all day so it might as well be adjustable. Luckily, 3 point slinger for the camera comes in various form factors and colors. One need not adjust when there are available options to choose from.
Build quality:
The build quality of your slinger should be of high quality as it will house your expensive cameras and equipment. Low-quality products shouldn't even be considered as they are already available at a very reasonable price. So, always make sure the slinger you buy is made of high quality and must be sturdy.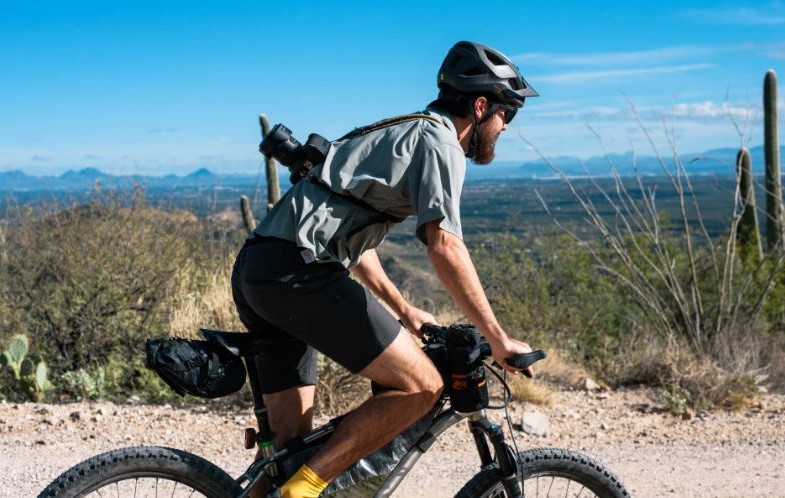 What Are Its Uses?
For outdoor and wedding photographers the activity of taking pictures can come with a lot of gear. Carrying separate camera bags with their gear can be a difficult task.
If you do not wish to carry an entire setup and want a hands-free experience then this slinger is an ideal choice.
What Are Its Advantages?
A slinger for the camera has the following advantages:
The camera sling has an ergonomic design and is usually cushioned at the shoulder area for maximum comfort and steadiness.
Locking mechanisms can help in locking the camera in a place that can reduce the swaying.
It also helps against accidental falls of cameras.
Professional cameramen and photographers all make use of some slinger for the camera.
It is universal and can mount almost all the cameras in the market.
It's lightweight and doesn't have much weight of its own making it very comfortable to use.
They are not all expensive and can be bought for a very low price making them perfect for all kinds of users.
What Are Its Disadvantages?
This is only for people who use the cameras for a very long period of time.
There are lots of options available while buying and one may end up buying a sling that is not made up of sturdy material which can lead to the camera falling off the sling.
Companies may design a product that does not serve the purpose of everyone. For example, companies may design the slinger only keeping in mind the right-hand users.
3 Point Slinger For Camera Cost:
Usually, 3 Point Slinger for camera cost somewhere between $30 to $100 depending on the use and quality. They are relatively cheap for the comfort and functionality they provide.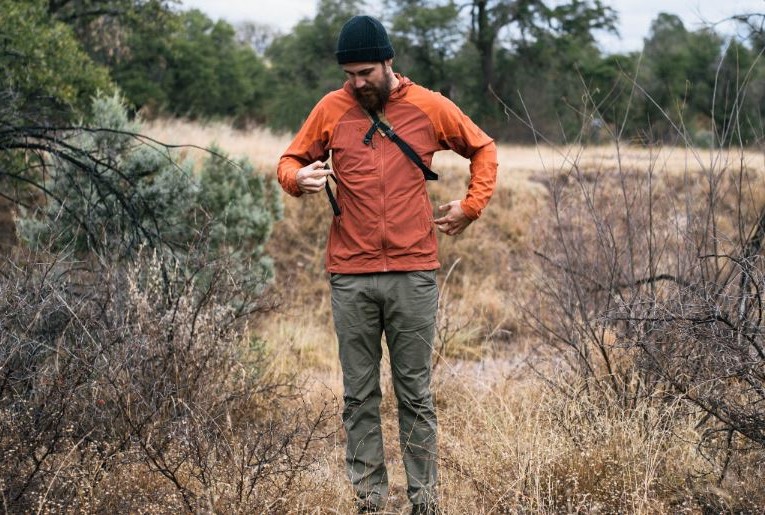 Best 3 Point Slinger For Camera in the Market:
1. Black Rapid Curve Breathe:
BlackRapid is famous for making slings for a long time and their latest product is called Curve Breathe. If you are in the market for a comfortable, practical, and long-lasting product then this is a very good option.
Best Features :
Curve breathe has a distinctive and ergonomic design that clasps around your left shoulder for maximum stability and support.
It comes with an inbuilt underarm stabilizer, which helps in maintaining the shoulder pad in position while walking so you can take shots from different views and angles.
To keep your camera and gears safe it comes with a bunch of locking mechanisms that locks your equipment in a place and prevents the accident from falling off and swaying of any kind.
Key Specifications:
In the box: You get Cam-Locks, Underarm Stabilizer, LockStar, FastenR (FR-5), Camera Safety Tether, Swivel Locking Carabiner, and a Black Mesh Bag.
Pad that consists of Nylon mono mesh, TPE foam, polyester, and air mesh
Strap with an adjustable length with pad: 66″ (167 cm)
Pad with a Width of 2″ (4.5 cm – 8 cm)
Pad with a Length of 15″ (37.5 cm)
Pad that comes with a Thickness of 0.3″ (.65 cm)
Webbing Width around 1″ (2.5 cm)
100% Nylon Webbing
Product Weight of 182 grams
Advantages:
Makes it easier to carry your cameras for a long duration.
Finest quality, light, and comfortable.
Fits perfectly with large cameras with large lenses.
Disadvantages:
It is an expensive product as some safety tether needs to be purchased separately which adds to the total cost.
The product can only be used by right-handed people.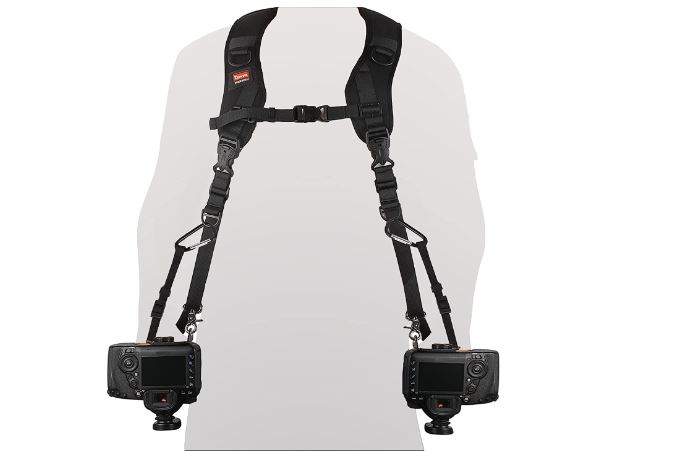 2. Waka Camera Strap:
This strap provides features that are similar to that of Curve Breathe by Black Rapid but on a budget. Some cost-cutting has been done to make it available for a cheaper price. But if you are in the market for a sling that gets the job done without spending much. Then this could be for you.
Best Features :
Not just one but two lockers are provided to lock the camera in a place. An underarm strap that is adjustable helps the shoulder pads from slipping.
Highly durable material such as stainless steel screws is used to hold quick release.
It has universal compatibility and works with cameras of different brands and sizes
It uses Anti-slip Neoprene and metal components making it highly durable and long-lasting.
Advantages:
It is relatively cheaper when compared to its competitors.
It is compatible with all cameras of all brands and sizes
Comfortable with highly durable materials.
Good product at a reasonable price.
Disadvantages:
The materials used are not very comfortable for extended use.
The looks and feels are not great when compared to other products.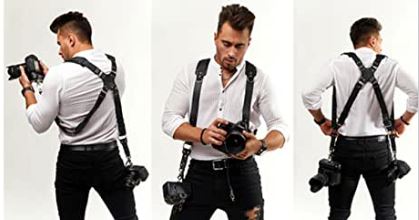 Conclusion:
3 point slinger for camera is a camera accessory that can help in numerous ways. It helps you to securely mount your camera onto your body and reduces camera swaying. The sling is straightforward and effortless to use.
This allows you to get lucid pictures without much effort. It reduces the strain on your neck and is usually made out of fabrics that are strong enough to carry the gear but at the same time are lightweight.
The slinger can be a perfect companion for your long photography sessions. It can allow you to seize the perfect moment.
FAQs:
1. What are the other types of camera straps?
The other types of camera straps include the traditional camera strap which is hung around the neck, a cross-type camera strap also known as a harness, and a shoulder strap for the camera.
2. Why do we use 3 point slinger for camera?
The conventional camera strap that companies provide you along with the camera is not very ergonomic and can cause neck and shoulder pain when used for a long duration.
3. Does it provide any safety?
Professional photographers and enthusiasts use this product not only for comfort but for the safety features it provides. It prevents the movement of cameras when attached to the body and also puts a stop to accidentally falling off of your gear.
4. What are its other related benefits?
It also allows you to have a hands-free experience when you are not using your camera and also protects it. Many products additionally come with slots and compartments that can accommodate all your photography gear.