IOTransfer is a simple yet efficient transfer and files management tool for iPhone / iPad / iPod, as well as a powerful free online video downloader and converter. Now, it updates to the fourth version.
IOTransfer 4 offers a solution with a simple click to easily transfer photos, music, videos and contacts from your iOS device to the PC. This files management tool also helps you to export, import, and delete extra content like Vocal Reminders App, Podcasts, iBooks in the MANAGE tab. So, it's a perfect alternative for iTunes.
Moreover, the optimized VIDEO function supports the downloading of various videos from different types of websites for music and videos on your iPad / iPhone /iPod and PC so that you can able to watch them without connecting data or offline. More than everything, it is absolutely free. With this unblocked video downloader, you can even download YouTube videos to MP3 MP4 and more formats since it attached to a free video converter. This feature in VIDEOS assists you to change video files smoothly into a range of file formats including punctured audio files and automatically move them to your iOS device. You don't need to be anxious about unsupported video formats any more.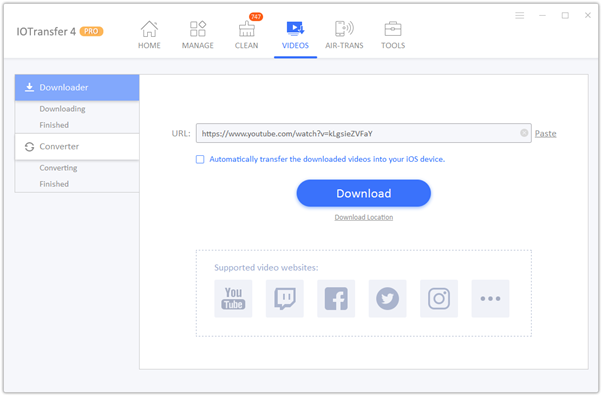 In IOTranfer 4, the improved CLEAN feature supports cleaning more cache and junk files on your iOS device to free up more space. And AIR-TRANS technology, which uses WiFi Direct technology, allows you to quickly and wirelessly transfer videos, photos and other files among the PC and iOS devices on the same local network.
Last but not least, IOTransfer4 has a brand new user interface, more intuitive and easier to use.
Most useful features of IOTransfer4 files management tool  :
Transfer & Manager:
Transfer and manage your photos, music, videos, contacts, etc. among the computer and the iOS device.
AirTran's:
This files management tool can wirelessly and freely transfer or share any photos, any music, and any videos among your computer and iOS devices at any time.
Video Converter:
Convert videos to various file formats, such as MP4, MP3, AVI, MKV, MOV, and transfer them directly to the devices.
Video Downloader:
Download videos online from various popular video websites, such as Twitch, and Instagram.
Junk File Cleaner:
One-click to clean all caches and junk files on your iOS device to free up more space.
A user interface that is easier to use with an easier operating process and a larger interface size.
Multiple Language:
14 languages ​​supported.
Compatibility:
Compatible with Windows 10 or 7 or 8 or 8.1, and iOS 8 to try with this app to get more benefits.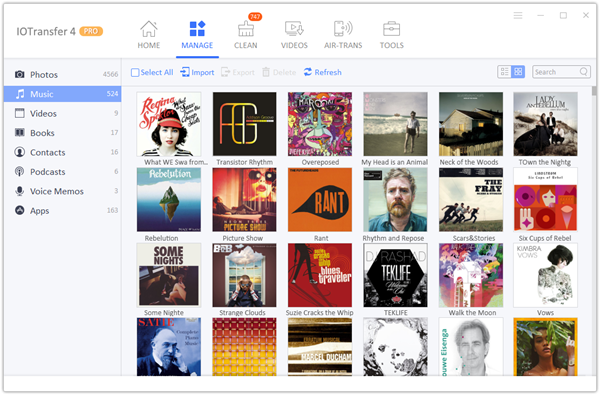 In a nutshell, I came up with hit IOTransfer4. The software works reliably allowing you to manage your iOS device. In addition to device management, it is extremely easy to use online video downloader. The support of over 100 video sites speaks of its quality.
If there's anything I'd like to add to your profile is Mac compatibility. I hope the company made this handy macOS software available as soon as possible. The app is accessible at no cost trial. So, you can give it a try before switching to the premium version.