If you are hopping around the web from post to post just to figure out how to make a customer friendly checkout page for your customers then you are at right place. We are here to tell you how to make an awesome checkout page for your website to make your customers happy.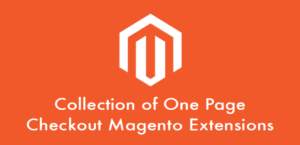 Magento is one of the most loved CMS for making e-commerce websites as it is a powerful solution for these kinds of websites. It is popular and perfect and the reporting feature of this CMS allows you to evaluate and monitor the performance as well as progress. But the process of ordering products and services should be easier as per the convenience of the customer.
The checkout process of a website is equally important as the designing and presenting products. You should start from reducing the annoying and needless steps from the checkout process. Because no businessmen will like to make their customer annoyed or frightened. These steps are significant and will directly impact on your business. Just make sure that what your customers need and what makes them happy.
The checkout pages should be maintained perfectly so that they can get your customers happy along with providing them a list of things they expect from your website. There are some plugins and extensions which provide you features to make something great and perfect for your customers along with flourishing your e-commerce business. They can provide customers suggestion for their desired product after the checkout process which can result in more sales.
Before moving on designing the checkout process of your e-commerce website in magento developers should know these key points:
First, make sure that the checkout holds justification for both registered users and new users. You can also provide the guest checkout process as this enhances the customer's satisfaction and doubles the chances that it will be get completed.
You should have alternative payment methods and support multiple payment gateways. It is simply because the customer can have a different choice of payment methods and it will good if they get their desired method on site.
The checkout page should be very easy to understand and use. As the responsive design, friendly fonts and highly visual buttons provide ease to customers.
The most important aspect of checkout flow is to provide easy access to filling shipping address. You can integrate address validation and autocomplete feature as this can enhance the navigation experience of your website for users.
The last crucial step is to preview the order details to your customers as this can enhance the loyalty of your business with the customer. Along with this, you can also offer the related things that provide them ease with choosing the product of they expect.
If you are a master in web development then you can start with designing a checkout page. These steps can definitely let you get more users to go through the checkout flow and complete purchase. Many of the e-commerce website owners only depend on the website developers for designing and maintaining their e-commerce business. But you can yourself deal with most of the features of these e-commerce websites. For this, all you need to have is extensions, templates which are pre-built from designers and ready to use on your websites.
If you are not perfect in designing then also you can create some awesome checkout pages for magento e-commerce websites. You can do this with the help of checkout extensions.
Here is the list of 5 magento checkout page extensions:
FireCheckout
The best thing you can experience with FireCheckout plugin on Magento websites is a reduction in the multistep checkout process. This extension allows you to create a clear interface with 1 checkout page instead of so many pages. This can enhance the customer loyalty towards your brand. It provides a responsive design which is incredibly important for any e-commerce website. It provides different types of layout options with backend customization.
You are allowed to sort orders of various fields, CMS blocks and use additional contents. This extension provides a multitude of features that enhances the user experience like enabling the custom field information, customer order view and display invoices in pdf in the order emails. There is another option of guest checkout that can be configured about to you.
Here are the main features of FireCheckout:
Available in 14 languages
Also, support GeoIP feature.
Widely configurable delivery date settings
Provided with order attachment module
USPS address verification along with autofill feature
VAT number validation.
Integration available with 100+ payment/shipping modules along with third party systems.
One Step CheckOut
One step Checkout is another name in the list which provides a friendly interface and perfects for any good resolution. It is developed by Magestore Company.
The extension provides features like clear shipping address fields, possible layout changes, and highly visual buttons. The module is loaded with 4 different layouts and the checkout page is available in templates of two other designs. The extension will allow you to show/rearrange/hide/set the required fields. Another feature includes the multi-store features.
Some major features that make this extension efficient:
It supports multiple languages.
Delivery date and wrapping product services.
There is another feature like polls. This is great for collecting user's opinions.
It supports more than 40 payment methods.
There are Google autofill suggestions also available.
Light CheckOut
Another best checkout plugin is Light CheckOut extension which provides a wide range of features. It lets users create awesome checkout pages with great visual experience. Along with this, it allows users to select your own skin color for checkout page along with the preinstalled color themes and to customize the block header.
The checkout process can be reduced from six steps to one with the help of this extension. The extension allows users to create a responsive design which is suitable for both desktop and smartphone devices. And it lets you customize the configuration with address fields as optional/required and changing the numbering and thumbnail size.
The features of LightCheckout includes:
VAT verification
Works in 15 languages
It can be easily integrated with 30+ payment gateways
The payment fields are powered with Ajax.
The date option and non-working schedule are fully configurable.
GeoIP option available for the address
One Step Checkout
One step checkout extension is created by Aheadworks to provide users of magento e-commerce website a solution for one step checkout process. This extension supports responsive designs and it allows guests to buy any products without logging in. There is a module configuration that allows users to include or exclude fields and let the shopping cart editable right on the checkout page and setup the default shipping and payment methods. The most favorable feature of this extension is that it provides the ability to enable related products block display in the last of the final checkout page or the order.
The main features of one-page checkout includes:
Supports gift card system
Ajax Auto updates
Comment feature also available
Allows Discount activation via coupon code
Onestepcheckout
Onestepcheckout is one of the best checkout page extension which is designed by One Step Checkout. This is an extension which provides custom checkout pages which all necessary functionalities at one place.
This extension provides extensive responsive e-commerce web page design which is a perfect fit for the e-commerce websites. The extension provides modules which are available in two editions called as enterprise and Standard. There are some great features in both of the modules that can make your e-commerce website fully responsive and customer oriented. The extension allows you to easily sort and set fields as mandatory or optional that too as backend process. Along with this the extension enables adding comment field, gift wrap option and adding a poll option in the checkout process.
Along with this, the One Page Checkout consists of the following benefits:
GeoIP auto detection with premium support.
Address autocomplete and verification with the Google Places.
All these steps are dynamically updating via Ajax
The extension is compatible with 10 third party services.
Everyone know that checkout is the most crucial thing of the e-commerce website. Having a multistage checkout process can be a hassling and annoying process for any customer, so it is your duty to provide them custom checkout pages with the single page product order. This page is also supposed to have featured with the related and necessary items and products listed as per the customer's expectation.
All the above-listed extension are a great pick for any e-commerce website. Choosing one of them is simply the state of mind. You can select one of them according to their features or your need and the affordability. They all are best in delivering a custom responsive checkout page that can make your visitors satisfy and provide you a brand value.