The concept of starting a blog is trending and this is giving rise to blogging profession. The professional bloggers are aware of web hosting terms but it is observed that a newbie tends to get confused while selecting a web hosting solution especially, between shared and VPS hosting. These two are the most used type of web hosting solutions that are available at a cheap price.
Are you a blogger and looking for hosting solution? Or confused between different types of hosting solutions? Then, you are at right place because I am going to highlight the difference between VPS and Shared hosting. This will help you to select the best hosting solution for your website.
Shared web hosting
There are billions of providers available in the market that offer shared web hosting at a fair cost and it is one of the cheapest types of hosting solution. Shared hosting is the best solution for those who have designed a new website and expecting average traffic. There website is hosted on a single server along with the multiple users.
There are multiple advantages of shared hosting such as cost-effective which I have mentioned before, easy customization, convenience, efficiency and more. In case, you are looking for best shared hosting then check MilesWeb Canada web hosting!! They offer three plans in shared hosting starting from Economy $ 1.62/mo and followed by Value – $ 3.87/mo and Ultimate plan – $ 6.45/mo. Plus you get global data centers to choose that includes countries like India, UK, USA, Singapore, Australia and Canada.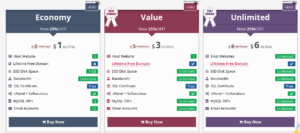 From the above screenshot, you can buy any plan as per your demand.
Why to Select MilesWeb's shared hosting?
MilesWeb Canada offers reliable, secure and fastest shared hosting with cPanel control panel. Their plan consists of great features like Wildcard SSL Certificate, free site builder, pure SSD storage, cPanel, one – click installer, latest PHP & MySQL, global data centre, free website migration, competitive price, etc. Their support is available 24*7*365 days through chat, email and phone. You get good uptime of 99.95% and 30 days money back feature on the shared hosting plan.
VPS hosting
In the VPS Hosting Canada, virtualization technology is used to separate the physical server hardware into multiple virtual servers. In short, a physical server is split into smaller virtual parts. A separate virtual server is assigned and you are the sole owner of that server. However, you have own storage system, OS, devoted RAM and CPU resources. You can customize the VPS environment as per your need. It is perfect for those who are looking for faster page loading speed, robust service and stability at a cheap price.
Why you should consider MilesWeb's VPS hosting?
MilesWeb Canada offers managed VPS hosting plans powered by DigitalOcean based on cloud infrastructure with built-in SSD storage. The three main benefits of selecting MilesWeb VPS hosting is KVM Hypervisor, Managed VPS and full root access. They provide multiple VPS plans with global datacenter locations. They offer two types of VPS hosting services one is Linux VPS hosting and second is Canada Windows VPS hosting.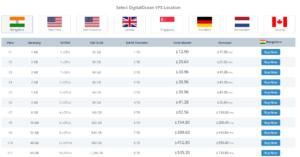 All plans include coupon code of 25% OFF – NY25 on first month invoice. So, if you're medium – size business owner or looking to switch your existing provider then consider MilesWeb Canada VPS hosting.
Benefits of MilesWeb VPS hosting
1) Managed and Unmanaged VPS Hosting
If you belong to the technical background and are aware of technical aspects then un-managed VPS is the ultimate solution to begin the online journey. But if you are looking for outstanding support to handle your queries then MilesWeb Canada managed hosting service is suggested.
2) Cloud-based infrastructure
MilesWeb offers cloud infrastructure with all VPS plans that helps to enhance your business to the next level and you can say that cloud infrastructure is an icing on the cake with VPS hosting.
Add-ons provided with MilesWeb VPS hosting
Solid – state drives
Free VPS management
SSH and root access
Resources monitoring dashboard
Global datacenters
Free VPS migration
Host multiple sites
Instant provisioning
No setup fee
Robust infrastructure
Instant upgrade
VPS Hosting Vs Shared hosting
1) Hosting performance
• Shared web hosting
In shared hosting, if your site is new or simply static, then you can expect good performance. But if your site is receiving good traffic and resources are getting consumed rapidly then you will face issues like downtime and account suspension. This will affect the performance of the website. Secondly, if your neighborhood over-consumes the server resources or is using the unethical method, then this will affect your website performance as well.
• VPS hosting
In VPS hosting, you get the isolated server and you are responsible for the functioning of the server. This ensures the best performance of the website.
2) Security
• Shared web hosting
As I said above, you are sharing the single server with multiple users then there is a chance that your site may get hacked. In shared hosting, there is lack of security because of multiple users.
• VPS Hosting
You get virtually dedicated environment. Therefore, security is 100% guaranteed in VPS.
3) Access
Shared hosting:
With shared hosting, you don't get complete root access of the server. Your web hosting provider is fully responsible for the functioning of the server.
VPS hosting
You get full root access and this allows you to manage everything on the server.
Conclusion
Both the web hosting solutions are beneficial for website owners in their own way. Every business owner buys the web hosting solution based on their demands. Shared and VPS hosting solutions are widely used and many providers deal for these two hosting solutions. So, carefully study and select the web hosting provider along with the hosting solution.