It's not easy to launch an eCommerce business. As an entrepreneur, you'll be faced with many challenges and choices to make over time. This article focuses on helping you identify the process from start to finish. We'll walk you through how to startup a new business and how to make it a profitable one.
Selecting a product
Before you do anything else, you need to decide what you are going to sell. This isn't an easy decision. How much profit you make largely depends on what you'll be selling and if it's a good product. Luckily, there are a few tips that you can follow to help you with this. The information below will cover ways to find opportunities and ideas.
Is your idea a good one?
Once you have a product idea in mind, think about its potential and whether or now it will do well in a target market. It will help to identify the specific market you are going to target, and go after that in your marketing strategy. We'll walk you through how to start up a new business from project discovery phase and how to make it a profitable one.
Getting the product
Once you've decided what product or service you'll be providing, you'll need to find a manufacturer to create the product yourself. You'll want to be budget conscious, as you'll need to sell the items for a profit.
Look at your competition
After completing the steps listed above, the next step is to identify who your close competition is. What products are they offering and are they similar to yours? Do they offer a range of products? What makes your business different from theirs? This is a crucial step in launching your business and will identify obstacles you may run into along the way.
Complete a business plan
After you've evaluated your competition, it's time to work on a business plan. A business plan helps guide you as you are moving your business toward profitability. It's a very important step in this entire process, and as such, you should dedicate some time to its completion.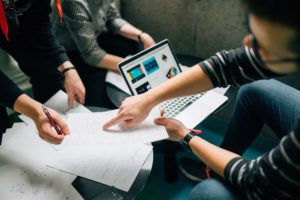 Register your business
After your business plan is finished, you can move on to registering your business. You may need to do a little research to determine how best to do that, as different cities and countries will have prerequisites for this.
Come up with a business name
The name of your business can say a lot to potential customers about who you are and what you are doing. It's not as easy to come up with a name as you think it is! It has to be relevant to what you're doing, and be clever at the same time. In addition, the domain name must be available as well. You'll want to buy all forms of the domain, including .ca, .com, .org, .edu in case you want to create multiple landing pages for your online business.
Make a logo
At this point, you are moving right along with your business. Now, you need to come up with a logo that you can display on your website, on business cards, and in other places. Again, it should be in some way relevant to what you are doing as a whole.
Invest in SEO
SEO stands for search engine optimization. As you set up your online store, it's imperative to think about SEO and how to rank your new website in search engines. When you have a good online ranking, potential customers will find you more easily.
Officially launch your online storefront
Once you have a good understanding of SEO under your belt, it is finally time to get your store up and running. Invest in eCommerce website development to ensure your storefront is optimized for SEO. Every product or service on your website will need rich product descriptions to entice potential buyers. High-resolution photos to capture your audience's attention should accompany these descriptions.
As you get ready to open your virtual doors, there are a lot of things that you need to think about. For example, how and when are you going to ship your products? You also need to think about your goals for your business. This will help you know whether your business is successful or whether you need to rethink a few components of your strategy.
Establish monetary goals
Numbers and data are important if you want to be successful. What is the cost of your product? How much does it cost you to ship your product? Do you have to pay any staff members? What other expenses do you incur?
For my personal business, I have daily revenue goals. They help me to stay on track. In addition, my product expires after a certain amount of time. That is why it is crucial to hit a certain number of sales each day; if we don't, we'll be left with inventory that we can't get rid of.
Always look for ways to bring down your bottom line. As you sell more, you'll also save more. For example, as you have more business rolling in, speak to the processing company to see if you can get a better rate. Even a little bit of money saved adds up over time. You can then reinvest that money in yourself and continue to grow your business.
Develop a succinct marketing strategy
Once everything is in place, and you have both a website and a product, you need to get the word out about who you are and what you are doing. That means you must become more visible on social media.
Instagram, Facebook and Twitter are all important social media channels to have an established presence. Set up an account on each of these. Consider running a promotion or a giveaway to get people to share your information with their friends and family. Keep track of how you are doing and where your sales are coming from so that you know what works and what doesn't.
If you don't have a lot of money to spend, just get your online store up and spend a little money here and there to see what works. Once you find a winning combination, you can invest more heavily in your marketing campaign!
Launching a startup business is a very rewarding experience, and it can be profitable when you have a proper business plan and strategy in place.